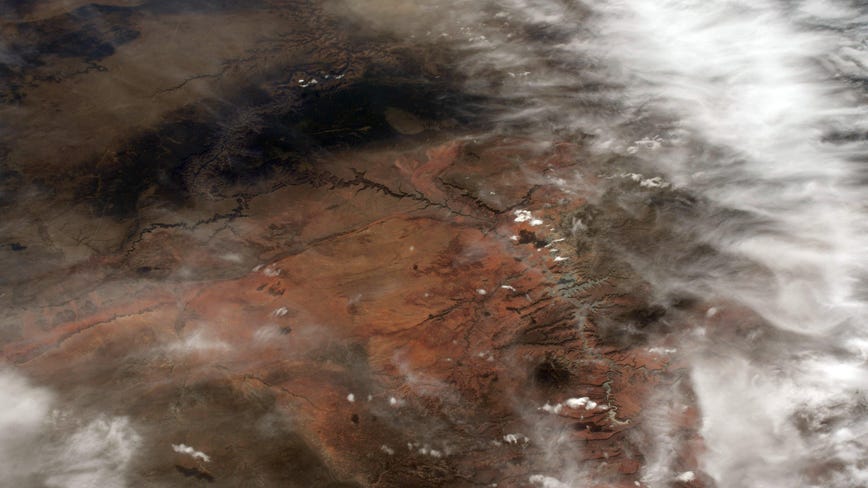 Grand Canyon from the International Space Station. Image courtesy of: Samantha Cristoforetti/ESA.
European Space Agency astronaut Samantha Cristoforetti shared a stunning view of the Grand Canyon on social media last week. The image shows wispy clouds framing the snaking, branching lines of the canyon against a brown and red landscape.
Samantha Cristoforetti is a European Space Agency (ESA) astronaut who has spent 200 days in space on a mission to the International Space Station as a Flight Engineer for Expedition 42 and 43. During this Italian Space Agency ASI-sponsored Futura Mission, Samantha conducted experiments in the Station's laboratories. She is currently living and working aboard the International Space Station once again for her ESA mission, Minerva.
Peaking through the clouds... the Grand Canyon! Amazing rock formations to make @astro_watkins smile, but also teeming with life and home to diverse ecosystems across its impressive elevation span. #MissionMinerva pic.twitter.com/D6iqjcWRpt

— Samantha Cristoforetti (@AstroSamantha) June 1, 2022
Watkins is a fellow NASA astronaut and current ISS crew mate with a doctorate in geology and research into landslides on Earth and Mars.
The image provides viewers with a rare top-down glimpse of a beloved national monument. With recent conversations surrounding climate change, the research conducted by Cristoforetti, Watkins and the crew helps to provide a needed perspective into the way our Earth is responding to increasing climate burdens.
Cristoforetti has been living aboard the ISS since arriving on a SpaceX Crew-4 mission in April. Her photography skills are stellar! Follow her now for more stunning Earth images.