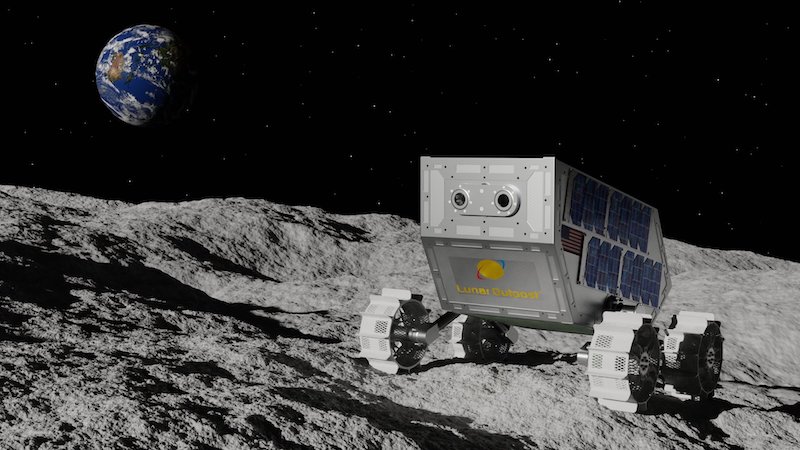 Image courtesy of: Lunar Outpost via Twitter
The recent Amazon re:MARS 2022 Event was an inspiring tumult of technological innovation, space exploration advancements and even robot dogs. Yes, robot dogs. During our time ogling the different displays between presentations, we had the joy of meeting some new friends over at space tech start-up, Lunar Outpost.
Founded in 2017, this Denver-based company emerged with the goal of developing technologies that enable an extended presence on the lunar surface as well as other space applications while also adapting their technologies to assist with challenges on Earth. "We're living at a time where dependable and repeatable commercial access to the lunar surface… is a reality. Lunar Outpost is sprinting alongside the industry, soon to be one of the few companies currently operating systems on three planetary bodies," said Lunar Outpost founder and CEO Justin Cyrus.
The Lunar Outpost Mission: Create technologies that enable an extended presence on the lunar surface while having a positive impact here on Earth.
Having hit the ground running, Lunar Outpost has a selection of technologies currently in development or actively deployed such as: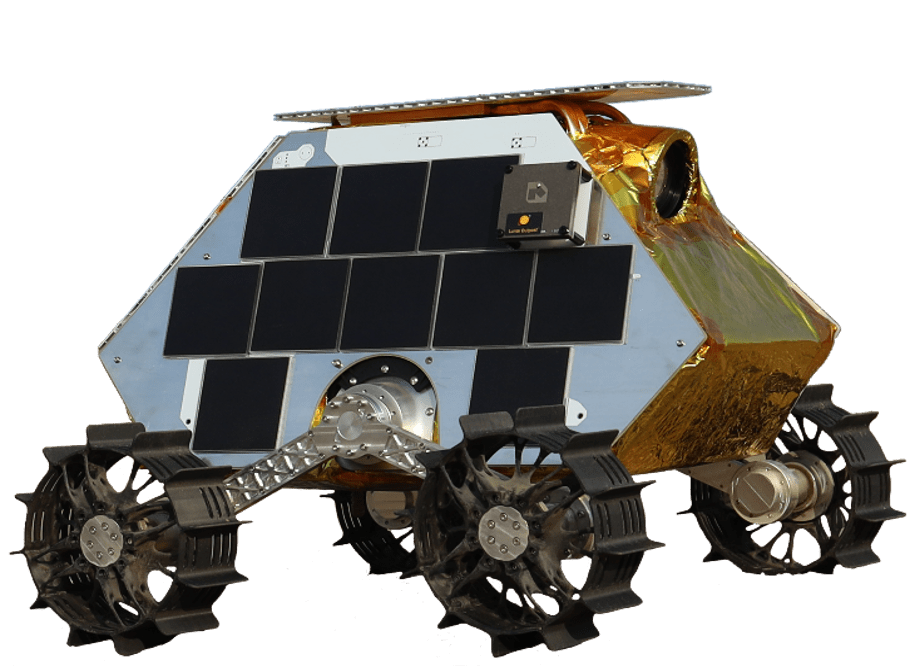 The MAPP measures 45 x 38 x 40 cm in size. Image courtesy of: Lunar Outpost
Mobile Autonomous Prospecting Platform (MAPP)
The first commercial lunar resource prospector, MAPP, is designed to work across the lunar surface, day or night. At just 10kg, these rolling rovers carry the vibe of a wandering toaster and are projected to be able to transport 5kg of material at one time.
In late 2022, an Intuitive Machines Nova-C space lander will carry a MAPP outfitted with Nokia's LTE/4G user equipment and deployable antennas to study the capabilities of Nokia's lunar LTE/4G communications system. Upon its arrival on Moon, the MAPP will drive off the lander on a 12-day mission to the lunar South Pole MAPP will traverse the lunar surface collecting performance data to determine how effective the system will be if deployed en masse. By testing an effective LTE/4G architecture on the Moon, Nokia, Lunar Outpost, and Intuitive Machines will revolutionize space technology, providing high-throughput, long-range, and low-latency communications on the lunar surface for the first time.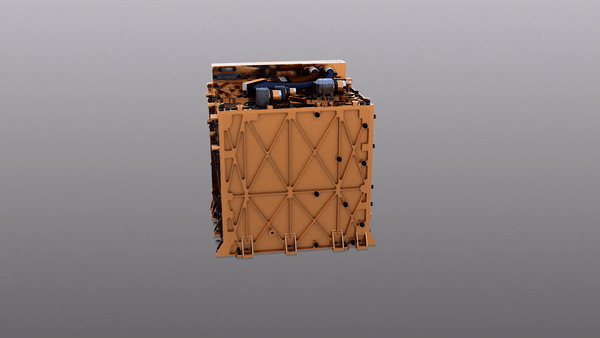 Say "Hello!" to MOXIE. Model courtesy of: Lunar Outpost
Mars Oxygen In-Situ Resources Utilization Experiment (MOXIE)
MOXIE, also known as "The Oxygenator", was developed in league with NASA and MIT to convert atmospheric CO2 into oxygen on the Martian surface. The goal is to solve the major issue of not being able to breathe on the red planet as well as creating a way to farm oxygen for fuel production. Resolving this issue can exponentially increase the ease and volume of human efforts on the surface in the future. This small gold box is able to process the CO2 atmosphere of Mars to compress, filter and then apply heat separating the oxygen and carbon monoxide from each other. The oxygen is further isolated by a charged ceramic component; making the oxygen ions merge into O2. Carbon monoxide is then expelled harmlessly back into the atmosphere.
During 2021, MOXIE's first oxygen run fitted aboard NASA's Perseverance Rover on Mars produced 5.4 grams of oxygen in an hour. The power supply limits potential production to 12 g/hr — about the same amount that a large tree would produce. For the future, Lunar Outpost is looking to partner with more agencies and projects in order to expand the capabilities of MOXIE. "The technology that evolves from what we have been able to do here will be the grandchildren descended from the success of our MOXIE instrument." said Jeffrey Hoffman, a professor of the practice in the MIT Department of Aeronautics and Astronautics.
The team at Lunar Outpost assisted in the mechanical and electrical subsystems of MOXIE among many other aspects of the development process, even helping to assemble the simulated models for experimental runs.
Canary Air Monitoring System
One of the most interesting aspects of Lunar Outpost is their pipeline for creating space tech that is then adapted to Earth usage such as their Canary air revitalization and monitoring system. NASA's Next Space Technologies for Exploration Partnerships (NextSTEP) Program issued a series of documents detailing specific needs for a future lunar habitation which encouraged private industry to help overcome these obstacles to future lunar missions. Lunar Outpost developed the Space Canary air-quality sensor to be tested on a lunar habitat prototype designed by Lockheed Martin.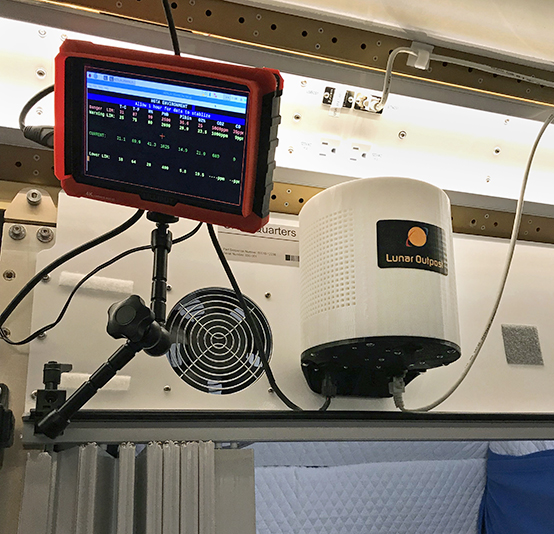 Space Canary, an air-quality sensor device, in a lunar habitat prototype. Image courtesy of: Lockheed Martin
The Canary system has now been adapted for use on Earth and is deployed in 15 states across numerous industries. One customer is the U.S. Forest Service, which is using the Canary-S variant to monitor forest-fire emissions in real-time. "Firefighters have been exhibiting symptoms of carbon monoxide poisoning for decades." explained Julian Cyrus, COO of Lunar Outpost. Sensors notify where and when carbon monoxide levels reach dangerous concentrations making it possible to issue quick warnings to take the necessary precautions.
"With cellular communication these systems can be placed nearly anywhere to provide measurements on particulate matter, targeted gasses, and meteorological data. Multiple units can be deployed to create a network of real-time data integrated into existing customer databases or into Lunar Outpost's platform." via Lunar Outpost
In the oil and gas industry, Canary sensors can help provide evidence for how effective environmental controls are, explained Charles Losche, senior manager of growth and policy for Project Canary. The company deploys Canary-S sensors to provide continuous, real-time monitoring of fugitive gas emissions to help aid in ongoing climate efforts. Among the commercially available options are the Canary-E, Canary-S and the Canary-X.
Where is Lunar Outpost headed next?
As of now, Lunar Outpost has raised another $12 million in seed funding which it will use to build more tech, continue build of MAPP before it deploys later this year and amp up its current offerings. When it comes to making space exploration technologies, their team has their sights on creating long-lasting solutions. "It's that we're building robots to last and operate for years at a time," Justin Cyrus told Axios in May.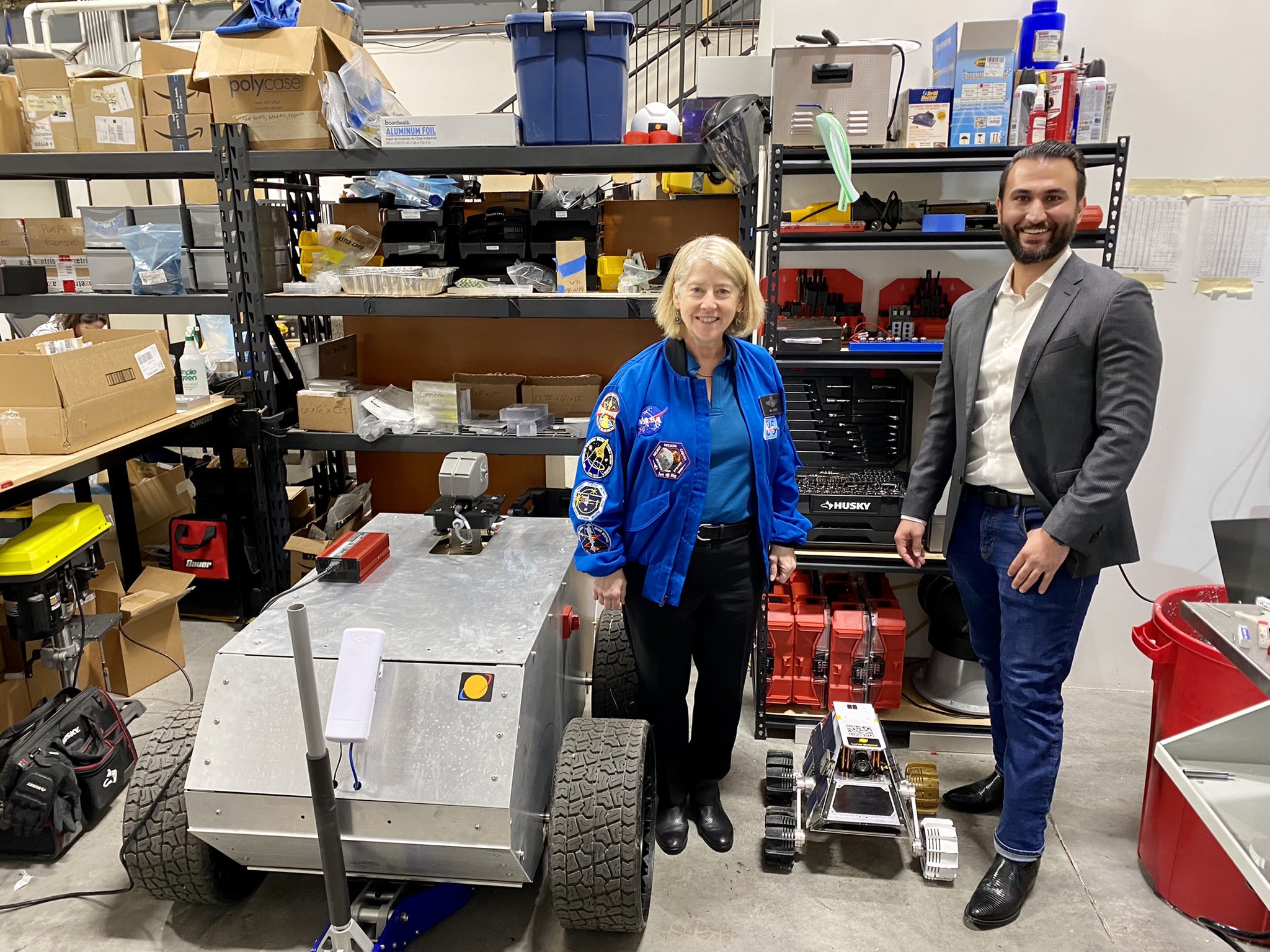 Image courtesy of: Lunar Outpost
Lunar Outpost has also just opened their new European Headquarters in Luxembourg with the introduction of a subsidiary, Lunar Outpost EU. Their efforts are focused on cutting-edge thermal technologies to enable lunar night survival but also ensure operations in some of the toughest environments in our solar system. "Our team is excited and appreciative to have this opportunity," stated Julian Cyrus, now appointed to Lunar Outpost EU CEO, "It is obvious how much the Luxembourgish government is willing to help foster growth in this sector, and we look forward to the work needed to become a key part of the European space industry."
Keep your eyes on this one, Space Pals. We have a feeling this is going to be one of the coolest companies to watch grow and expand their already epic creations.