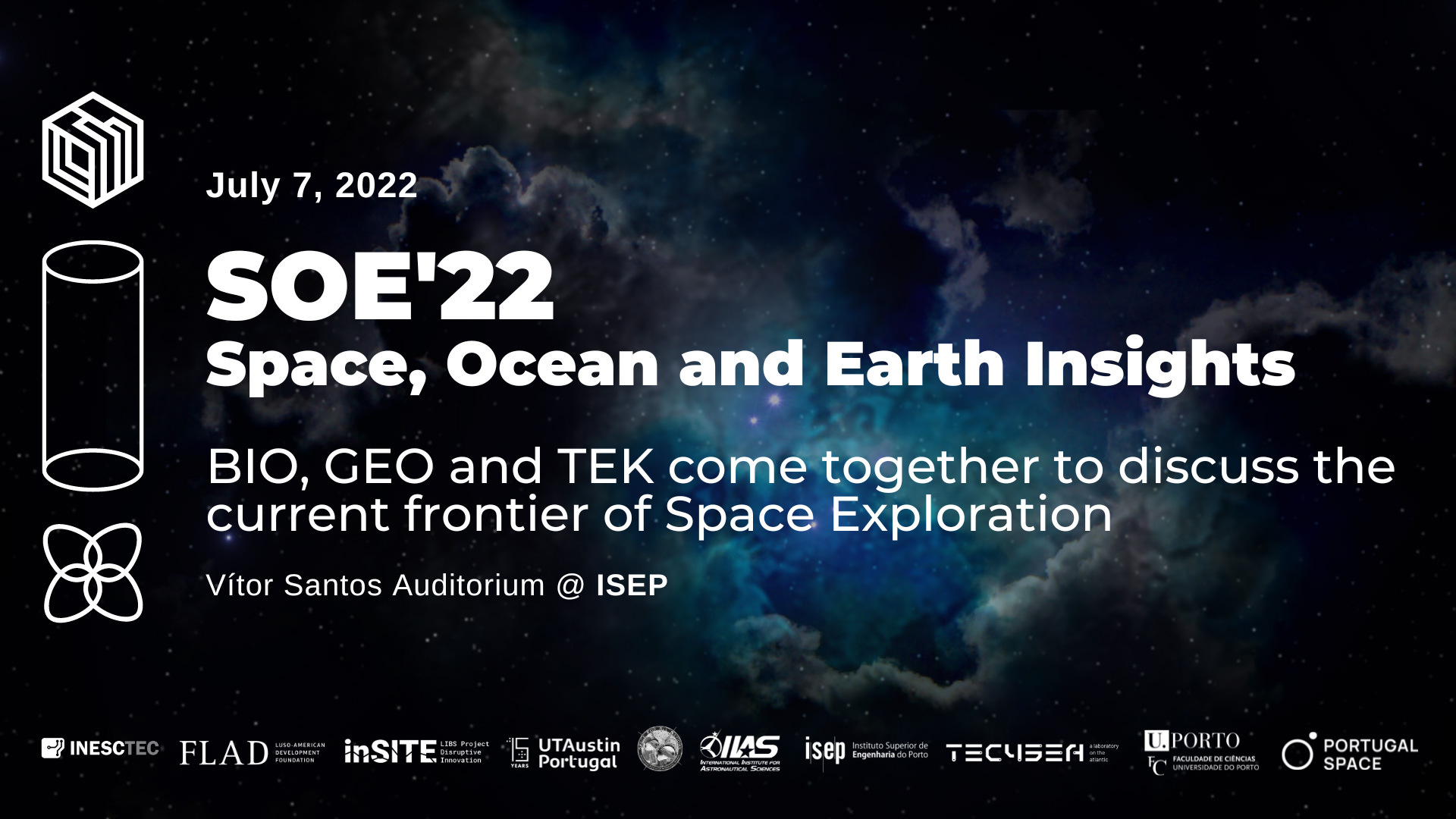 Image courtesy of: UT Austin Portugal
At the risk of sounding like a hype beast, this is a BIG year in space tech and we are practically giddy with anticipation for this year's SOE'22 - Space, Ocean and Earth Insights workshop. The day-long workshop is a coming-together of renowned scientists to share state-of-art research across several fields of knowledge feeding into Space Exploration: Space Medicine, Geo-Robotics, Aeronomy, Space-Earth-Sea Interactions, Space Resources, Remote Sensing and more.
On the roster of talks and presentations are scientists featured from collaborations between the UT Austin Portugal Program, INESC TEC's Center for Robotics and Autonomous Systems (CRAS), the International Institute for Astronautical Sciences – Space for All Nations (IIAS), ISEP, the Faculty of Sciences of the University of Porto (FCUP) and the Portuguese Space Agency: PT Space. Shoutout to our friends over at IIAS who will be in attendance including Yvette Gonzalez, Head of International Collaborations and Strategic Initiatives, and Jason Reimuller, Executive Director at IIAS!
See the full workshop schedule, here.
For those of us who want to check out all the juicy space tech info, the workshop is great about uploading their talks and presentations to the UT Austin Portugal YouTube channel, so be sure to check it out in the next few weeks.
While the workshop is a wonderful showcase to learn about ongoing space exploration research, it also functions as a front-end opportunity to foster future opportunities for interdisciplinary and international collaboration in education, science and technology development in space tech. The workshop provides visibility to Portugal's rising Space Ecosystem and allows for their scientists to network with renowned national and foreign experts in league with their efforts to strengthen their place in the space exploration community.
Portugal has undertaken a serious program of innovation and research in the last decade with its pioneering collaboration with the University of Texas - Austin. The UT Austin Portugal Program, is a partnership program in Science and Technology between the Portuguese Foundation of Science and Technology (FCT) and the University of Texas at Austin (UT Austin), supported by the Ministry of Science, Technology, and Higher Education in close collaboration with the Council of Rectors of the Portuguese Universities (CRUP).